Creative arts hub Zimbabwe uses a combination of music, movement, drama and meditation to encourage self-expression and connectedness for young people living with HIV with the aim of improving their engagement in HIV care.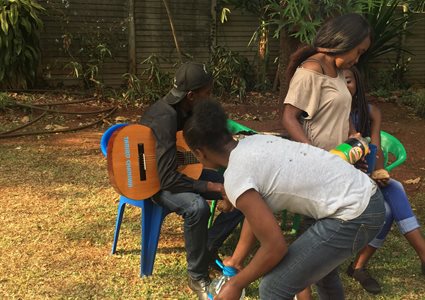 This activity, designed for young people in Zimbabwe, initially ran for six weeks, and was extended to 4 months. It comprised 14 sessions each lasting 2 hours. Each session included music, meditation, and movement. Drama, art, poetry were also used. Optional counselling was available. The sessions were run by a professional Zimbabwean musician, Tariro neGitare and aimed to improve emotional and physical wellbeing and resilience.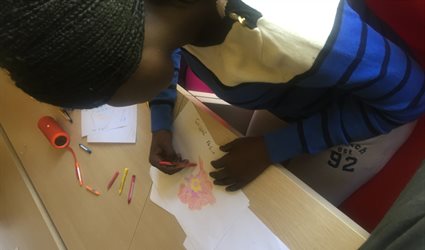 Creative arts hub Zimbabwe provided Tariro the first-time opportunity of running her groups for young people aged 17-25 who are all sub-optimally engaged in HIV care with most having high HIV viral loads and emotional stress. The project was a partnership between a government health clinic, performing artists, mental health practitioners, the Zvandiri charity and young adult service users. Tariro neGitare was the program lead, and Dr Melanie Abas from King's College London was the academic lead. A delegation from the BRIT School, Croydon comprising Jodie Clark, dance director, three current students and an ex-student traveled to support Tariro in the dance and film-making aspects. The BRIT students worked with Zimbabwean artists and the young people themselves to create a dance workshop and make a film about Creative arts hub Zimbabwe. The film was made to show the impact on the young people of taking part in the Hub sessions and an eight minute version can be viewed below.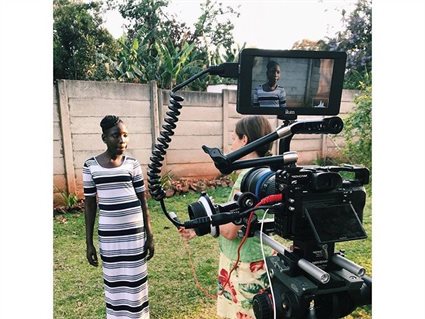 Project events
Creative arts hub Zimbabwe concert, 27 September 2017, 17:30-18:30 at the German Society, Zimbabwe                                                                                     The concert was in collaboration with the lead artist Tariro neGitare and was a display of the activities that the team had put together during the sessions.    Click here for the concert flyer
Project legacy film
Project team
Dr Melanie Abas is Reader in Global Mental Health at King's College London. Her research interests include interventions for depression and anxiety in low-income and cross-cultural settings, in particular at the interface between depression and HIV in Zimbabwe.                                                                           Follow Melanie on Twitter here 
Tariro neGitare is a Zimbabwean creative entrepreneur, musician and philanthropist. She has a passion for the arts and its development in Africa as evidenced by her initiatives. She designed and led creative arts activities for groups of severely disadvantaged pupils in Harare.
Jodie Clark is the Director of dance at the BRIT School for the Performing Arts, London, where she teaches a range of techniques and writes, choreographs and directs performance work. She has a breadth of knowledge and experience within Dance from technical teaching, artistic development, performance projects and developing and nurturing Industry links.                                                           Follow the BRIT School on Twitter here
Tarisai Bere is a psychologist based in Harare who has been working in Mental Health providing psychological counseling for the past 7 years. She has also been involved in mental health research at University of Zimbabwe. She is currently completing an MSc in Global Health at the Kings College and London of Hygiene Tropical Medicine.
Emily Saruchera is a Psychology graduate experienced in working with depressed people living with HIV with poor antiretroviral therapy adherence. She has been involved in several mental health research projects at the University of Zimbabwe.
Nyasha Abdala an Africaid DREAMS ambassador and a Zvandiri intern/peer counselor who facilitates the ARTS (drawing) group. She is currently working towards a bachelor's degree in Psychological counseling at University of South Africa.
Leo Broadheadis a recent graduate from the BRIT school and he is a filmmaker. He has returned to the BRIT school for a Foundation year in Theatre prior to taking up a place at Ravensbourne University to study Digital Film Production.
Clint Frift is a recent graduate from the BRIT school and he is a filmmaker.
Dr Sara Lowe is the Medical director at the HIV clinic at Parirenyatwa Hospital in Zimbabwe and she works for Aids Healthcare foundation (AHF). She is particularly interested in supporting adolescents living with HIV in Zimbabwe.
Amanda Madyadi has a Masters in Biomedical Science and is a trained counsellor who also advocates for young vulnerable people living in Zimbabwe. She has attended several conferences representing young people including those living with HIV.
Camay Maslona studies dance at the BRIT school
Isabelle Kalindamar studies dance at the BRIT school
Creative Arts Hub Zimbabwe: improving psychological wellbeing for adolescents living with HIV at high-risk of poor health outcomes in Zimbabwe is a collaboration between King's College London's Department of Health Service & Population Research and Tariro NeGitare of Magitare Trust, supported by the Cultural Institute at King's.